Have you ever seen such a delicate wood products?
We think the products are too good to play for children. They are no longer works of art!!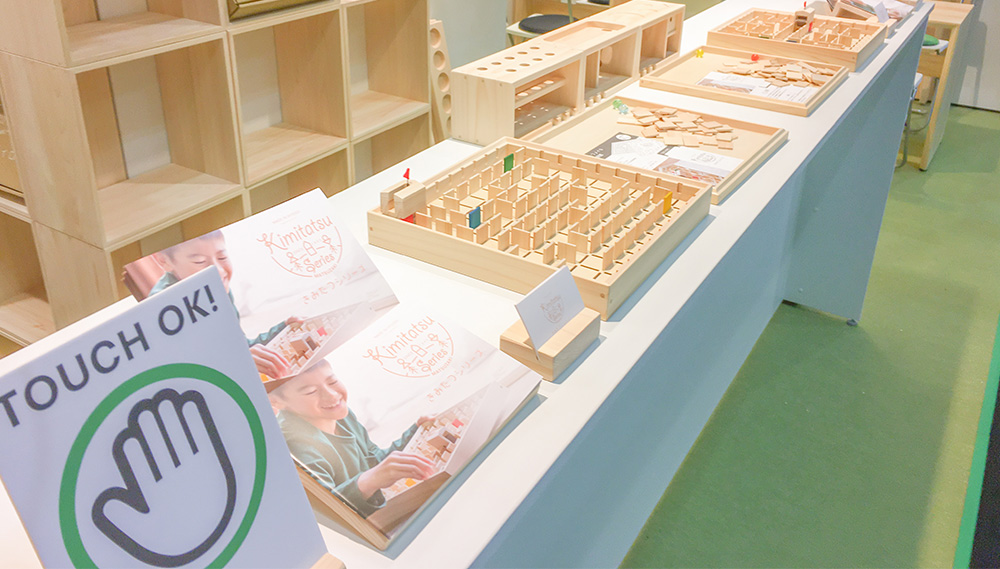 The products have four great features.
First of all, they use HINOKI wood made in HYOUGO prefecture, Japan. HINOKI takes the top-grade as building materials. HINOKI was used to build traditional Japanese temples throughout Japan, so its durability and conservation are proven thoroughly. In addition, its specific aroma of HINOKI has a certain effect which relaxes people. For example, bathroom and lacquer ware made of HINOKI. HINOKI kills some germs too.
Second is its safety. These products have no sharp edges, a high standard in strength, no use of harmful paint or glue, and made all the wood parts into as the same color as possible. The craftmen keep the criteria at high level to create these great quality wooden products.
Third, the structure of KIMITATSU has wide ways in use. KIMITATU SERIES are different from the other wooden toys or products. It is not completed itself yet until the users arrange, fit it to their lifestyle, and create their own world.
Last, the company makes effort on studies for usability seriously. For example, the company repeated trial manufactures until its wooden pieces of MEIRO fit into holes comfortably. When the company develops new products, they have children use them to seek the best size for children in fact.
These features above suggest that the company uses the best technology and carefulness as well as safety and attraction to create their products. This spirit is often called OMOIYARI in Japanese and it lies in their products. Next is concept.
CONCEPT
TREE・WATCH・STAND
The name of KIMITATSU comes from how Japanese thinks parenting is. Parent in Japanese is written as 親 which is composed with three different words; 木(Ki), 見(Mi), and 立(Tatsu). These words木, 見, and 立 mean tree, watch, and stand respectively teaching that parenting is such to watch their children standing by a tree.
Japanese believes children need less meddlings sometimes to develop an ability to solve problems and build up confidence. The craftmen named KIMITATSU following the philosophy, wishing their items to watch over children by their side always like a parent.
KIMITATU MEIRO
Make your original maze
KIMITATU MEIRO is a toy you can make a maze just as you want. By embedding wood partition chips into 180 holes, you can build your original maze. There are 9900 patterns of mazes, and if you didn't decide a start and goal, the numbers of maze patterns would be astronomical.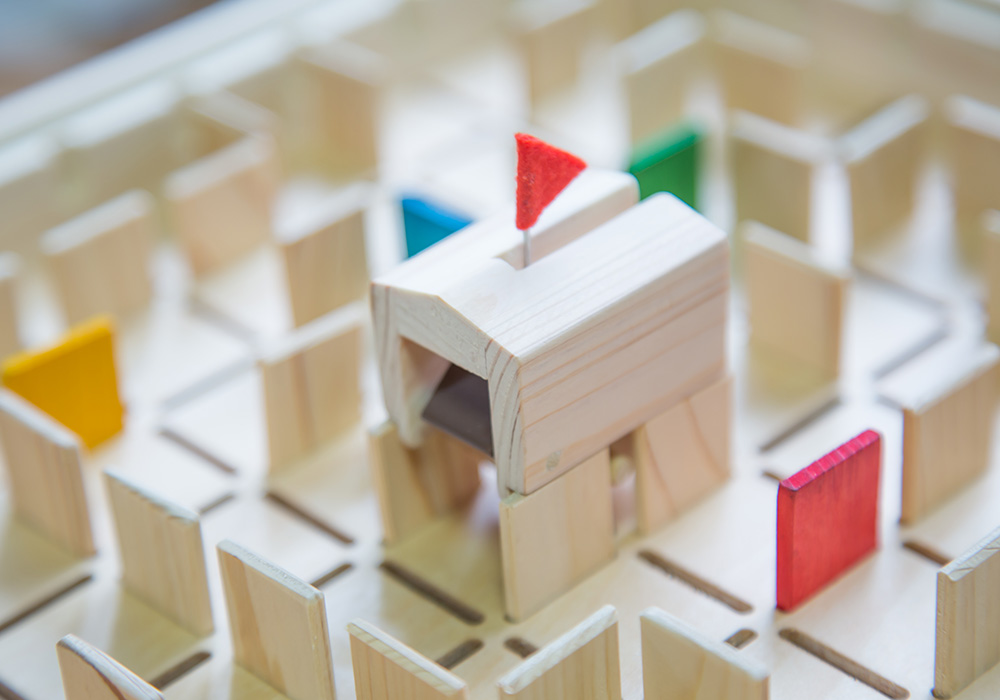 setting up and putting away smoothly
There are room for goal, marble, and the chips to keep in lid temporarily, so your house don't be scattered.
Popping up flag
Marbles move around for goal on your maze. When it hit the goal, a red flag pops up.
Safety finish
To protect from flaw and dirt, the frame, chips, and lid are finished with urethane coating which has passed even Food Safety tests in Japan. Wood chips are finished with natural food coloring agents.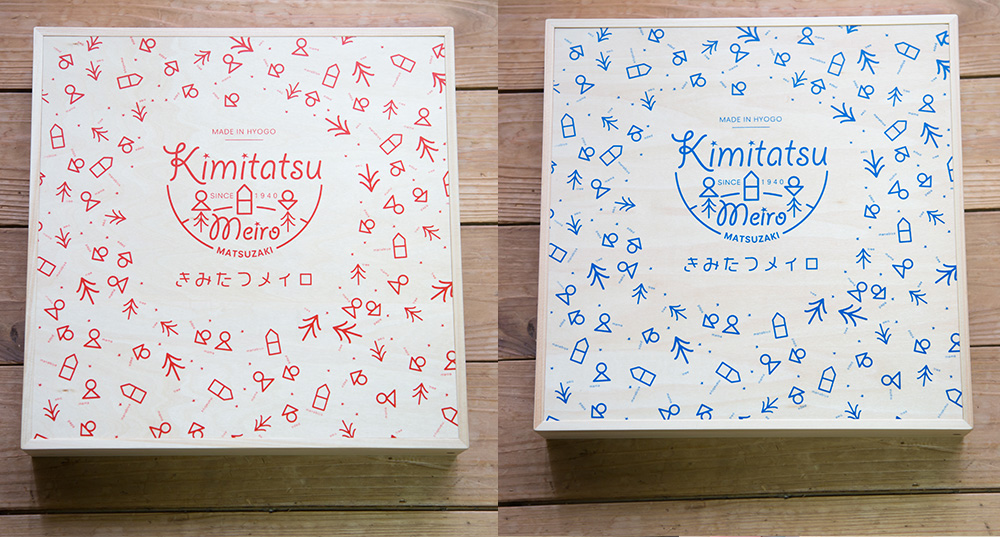 The wood chips are pure natural
Its chips are not finished with any coatings because the craftsman wish children to experience its smell and sense of touch of woods.
company name

MATUZAKI Co., Ltd

product name

KIMITATU MEIRO

content

body 1 /wood partition chips 120 +colored chips 4/ goal 1/ marble 2s

size

W310mm × H55mm × D310mm

wight

Maze part 680g/ lid 330g

materials

HINOKI made in HYOGO, Japan / SHINA made in HOKKAIDO, Japan
KIMITATU BOX
Storage with style
You can make your own way of storing items. The products can be used not only on the desk but also on the wall. It is a great accessory case!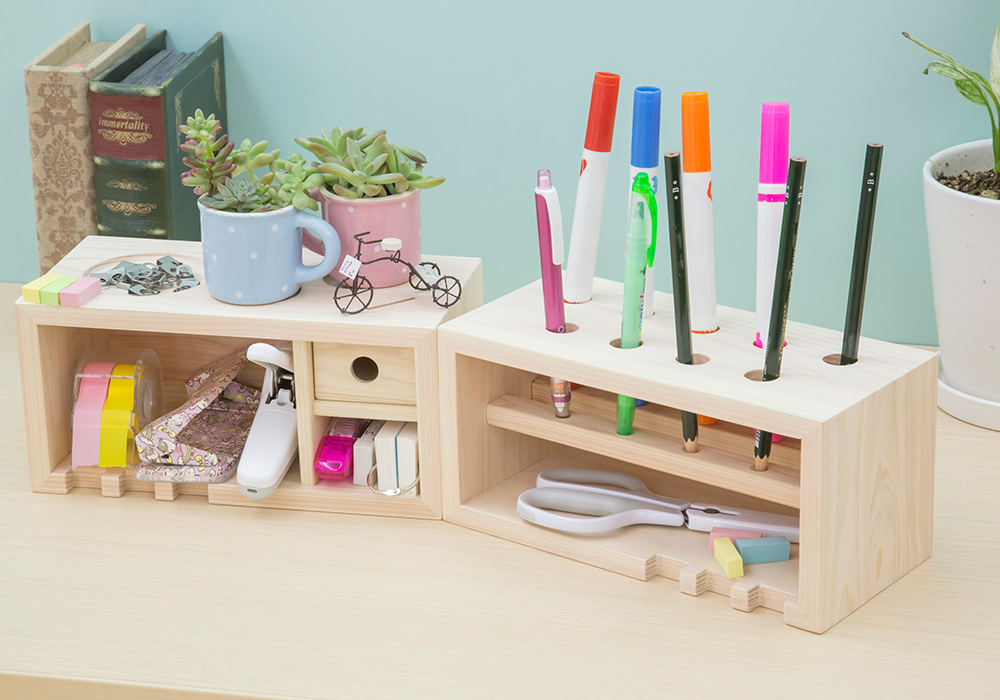 Type A : pen holder
It has two-stage structure unable to keep up to nine pens.
Type B : smart phone stand
You can put smart phone on it and thread charging cable into inside. The dimension of the stand is 80mm x 194mm.
Type C : Coin box
It holds coins.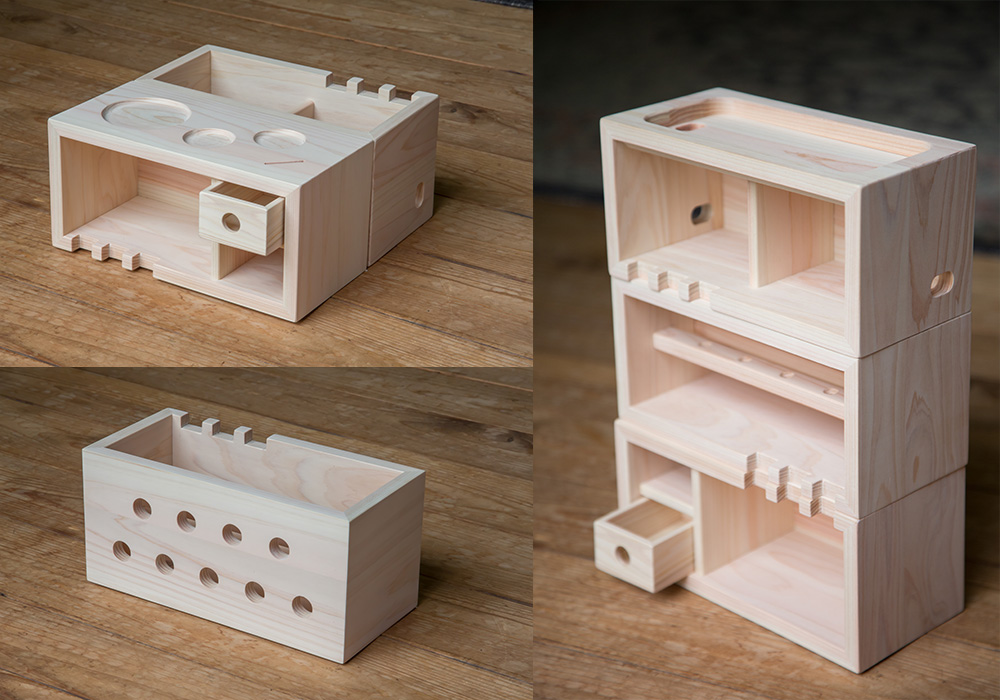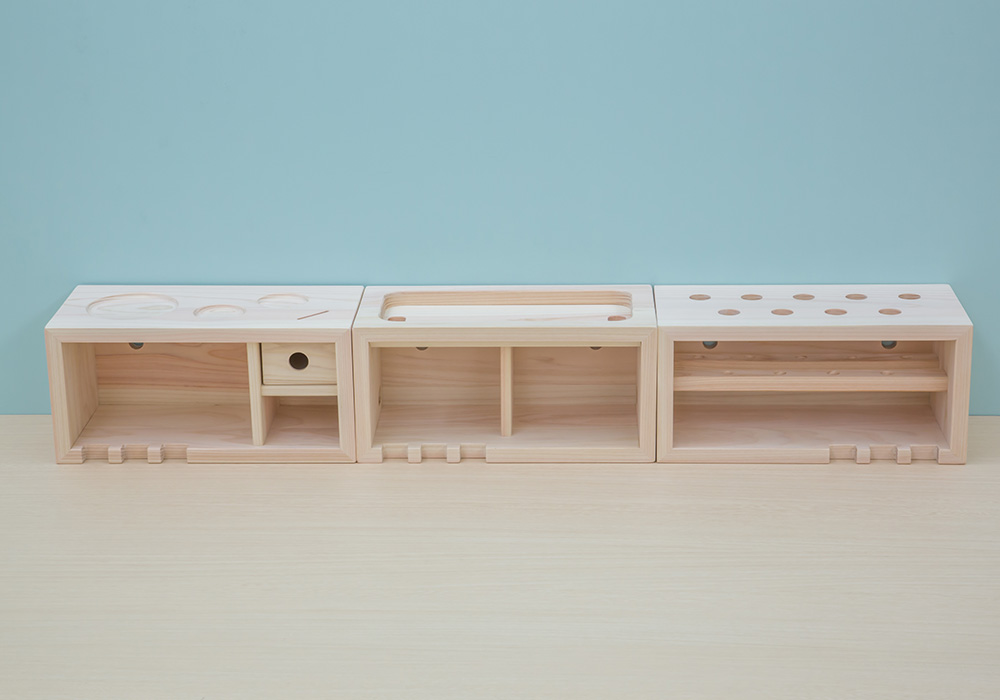 company name

MATUZAKI Co., Ltd

product name

KIMITATU BOX

content

box 1

size

W230mm × H110mm × D110mm

wight

approx 530g

materials

HINOKI made in HYOUGO, Japan
KIMITATU SUKUEA
set up as you want
It can stack as favorite shape because it was designed to combine.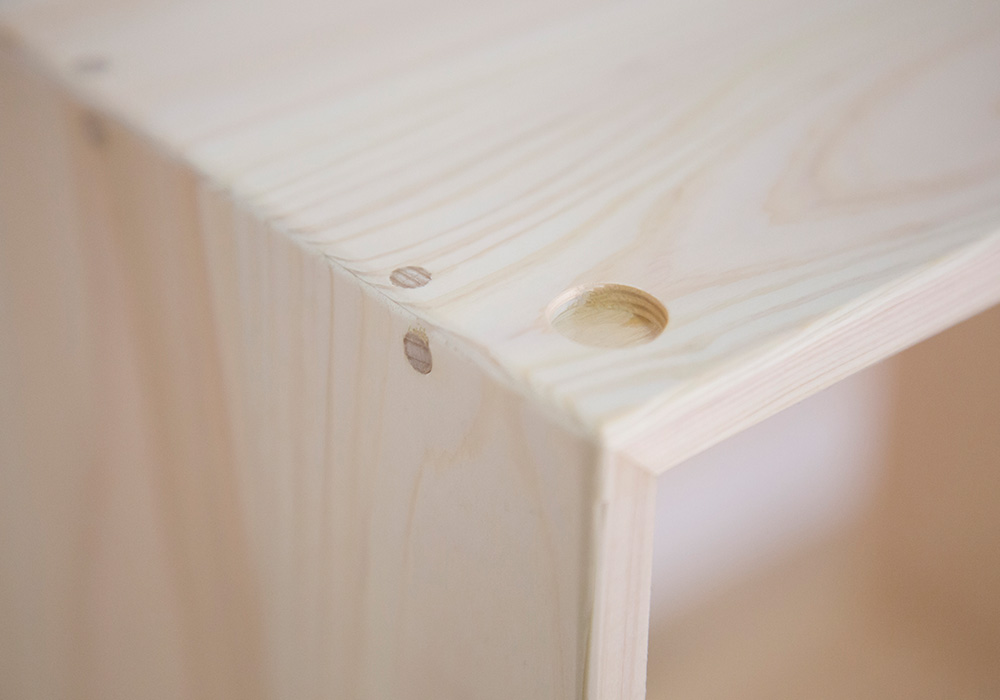 It becomes interior or storage box
The height is 32,5cm, so it can store large books and files.
Coordinate as your life style changes
In childhood, you can use it as toy boxes, but as you grow it becomes a book shelf. This KIMITATSU square is made for lifelong term and changes its use.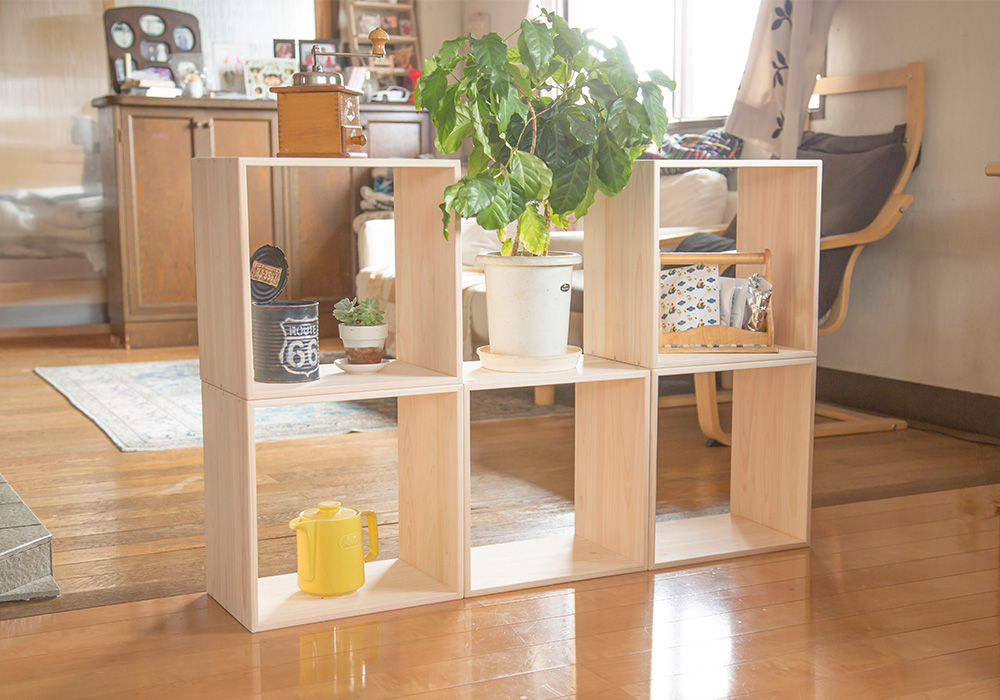 company name

MATUZAKI Co., Ltd

product name

KIMITATU SUKUEA

content

boxes 6 / joint parts 24

size

W350mm × H350mm × D220mm / thickness 12mm

wight

body 680g/ lid 330g

materials

HINOKI made in HYOUGO, Japan
Reasons for our recommendation
The craftmen use superb technology with thoughtfulness to create their products. They also always care for safety and attraction. Their spirit in craftsmanship is what is called OMOIYARI in Japanese.
We would like to recommend them with confidence to the world for their concept that blooms out of their craftsmanship, wishing their products to be used around the world as watching children to grow.