Shiitake mushrooms are widely used in Japan for both Japan and Chinese cuisines. It is an useful ingredient, which can be served as both the main or side dish. Many people may think "If I want to eat something, I want to eat something safe and delicious." This time we will introduce you to dried shiitake mushrooms of Marutomo Products.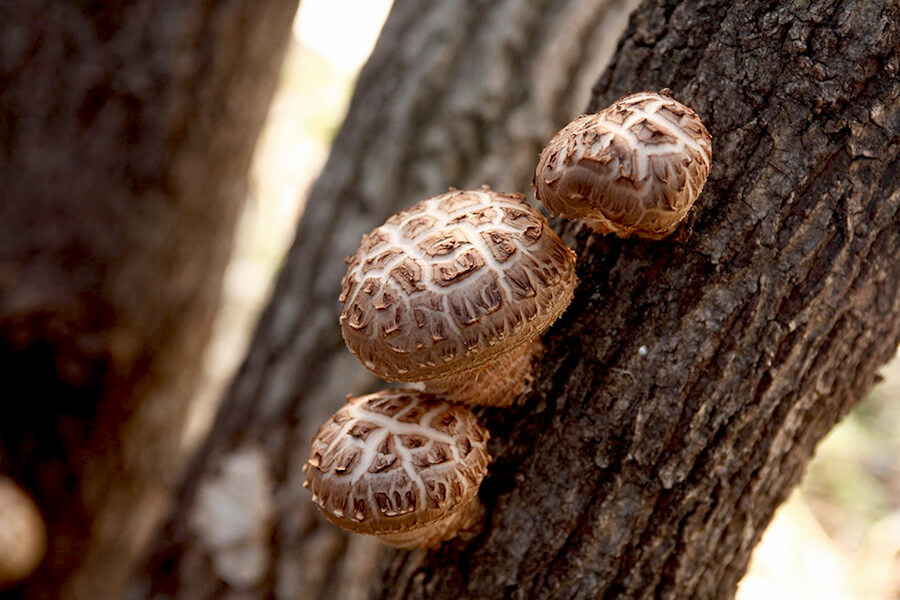 Children usually learn from small changes. By using this jigsaw plate, it can enhance children's imagination and creativity. You can create a fresh plating even with overnight food.
大分県のシイタケづくり
Marutomo Products is a company located in Oita prefecture.
Oita prefecture has been actively cultivating shiitake mushrooms since 350 years ago. Outside of Japan, mushroom bed cultivation is popular; in contrast, Japan has been using its unique cultivation method with raw wood. In addition, dried shiitake mushrooms has been eaten in Japan for over 1000 years.
There are various theories about the origin of cultivation using raw wood. The most famous theory is one which happened 350 years ago in Bungo province, present Oita prefecture. It is said that someone called Genbei discovered dried shiitake mushrooms when he was burning charcoal, and he started to do research about it. The basic cultivation methods are still practiced today, such as the cultivation in sawtooth oak trees and holes of raw wood and so on.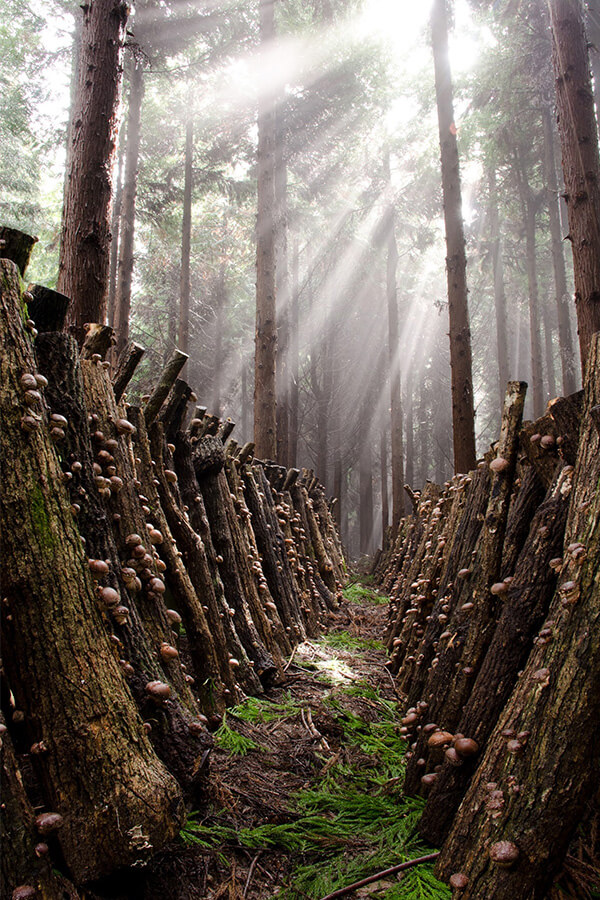 Flow from logging to distribution of raw wood
1.Raw wood forest
In Oita prefecture, 15 years old sawtooth oak trees are mainly used.
(In Japan, the jolcham oak is mostly used.)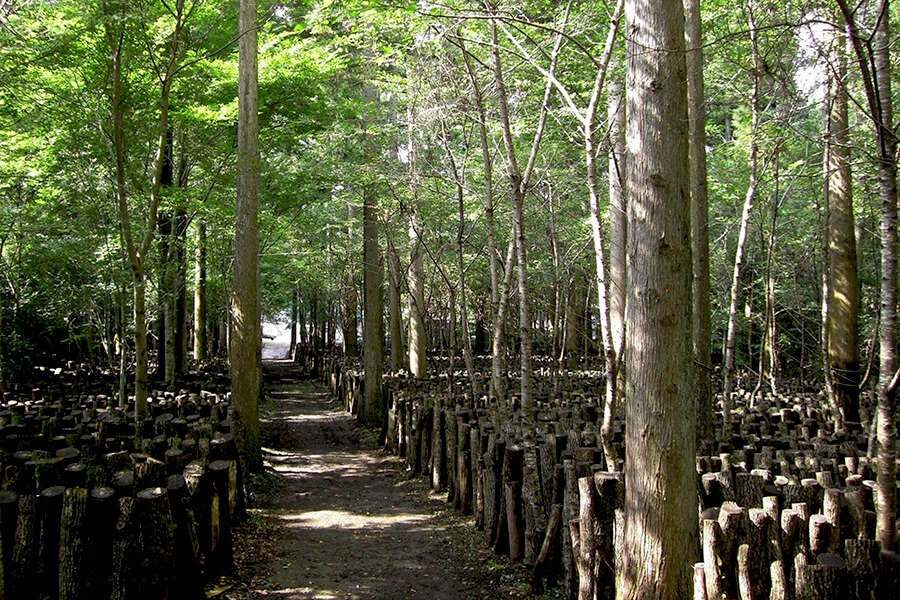 2. Logging (Around November)
Logging is started when the leaves start to color.
The wood is usually left to dry for about 2 months.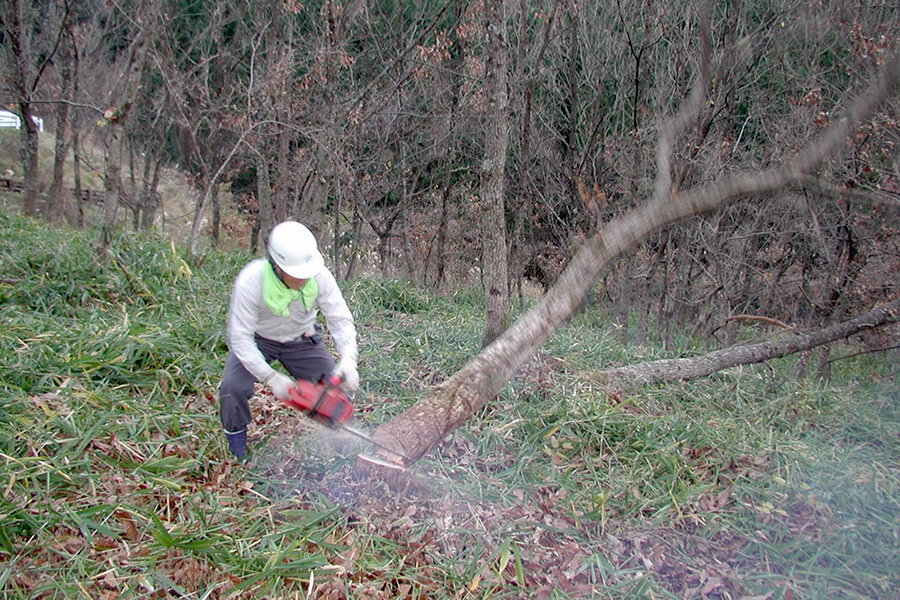 3.Cross-chopping
The wood will be chopped into 1 meter per unit.
This is called cross-chopping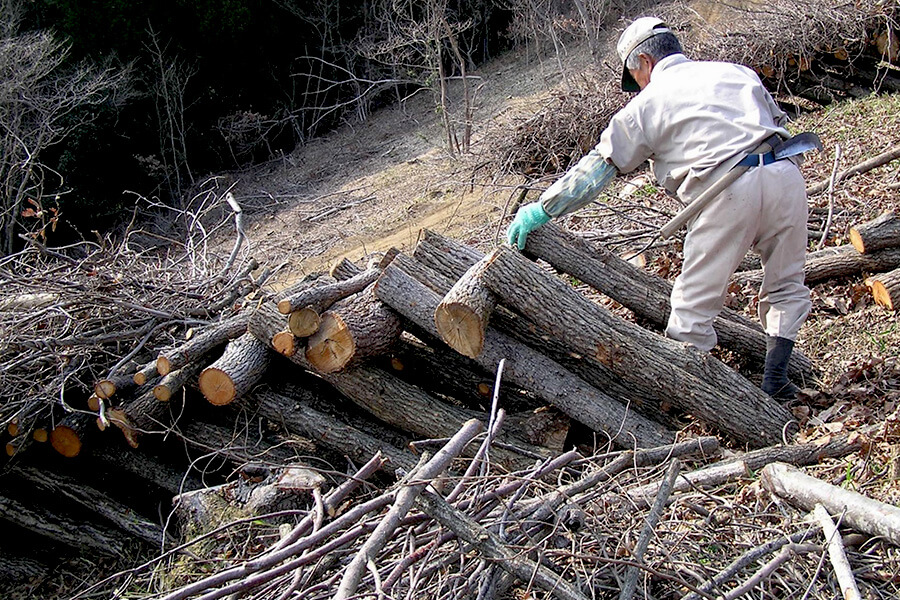 4.Seed planting (January till March)
Small holes will be made with electric drillers, and seeds of shiitake mushrooms will be planted inside.
It is said that the best time for seed planting is in between the blooming period of plum and cherry-blossom.
5.Laying
In order for the shiitake mushroom to grow well, we will place a branch of sawtooth oak on top of the wood to avoid direct sunlight. It will be left to sleep for one and a half year, until autumn of the following year.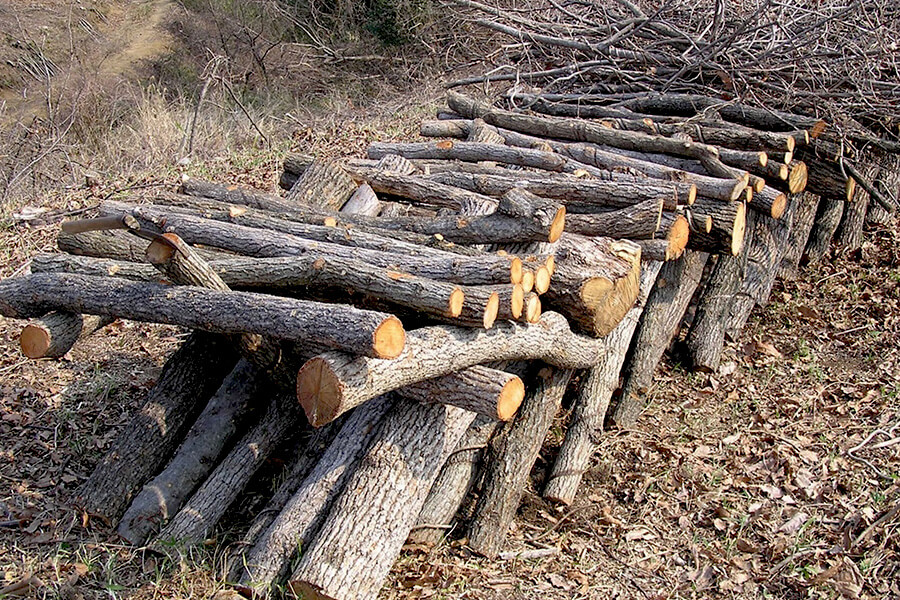 6.Grown and Harvest (bed log laying yard)
After laying until the following autumn, the logs will be moved to the bed log laying yard for growing. The growing will occur from autumn to spring of the following year.
After the shiitake mushrooms grow to a certain size, it will be harvest.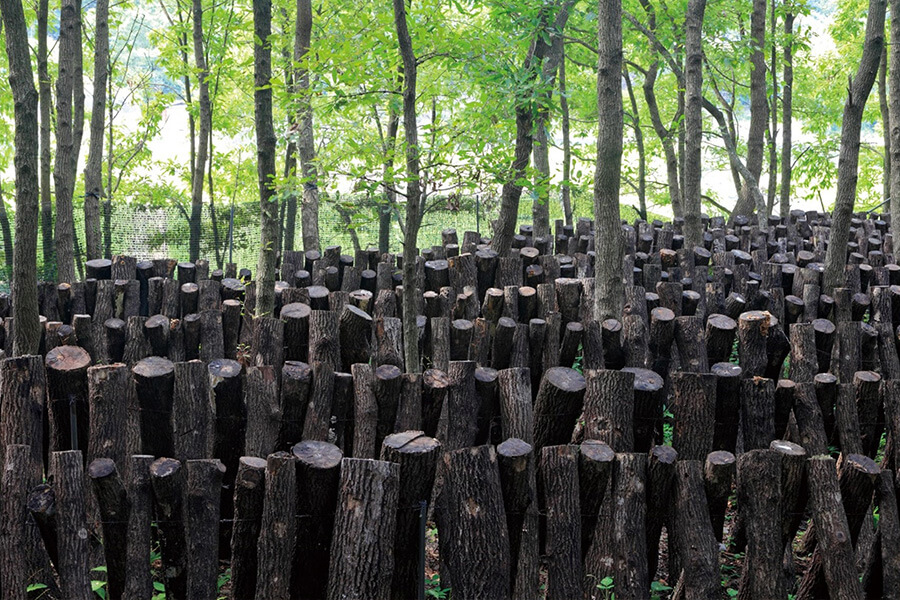 7.Dry and Selection
After harvesting, the shiitake mushrooms will be placed into a dryer for 24 hours.
After being selected carefully based on the size and thickness, it will be ready to be shipped.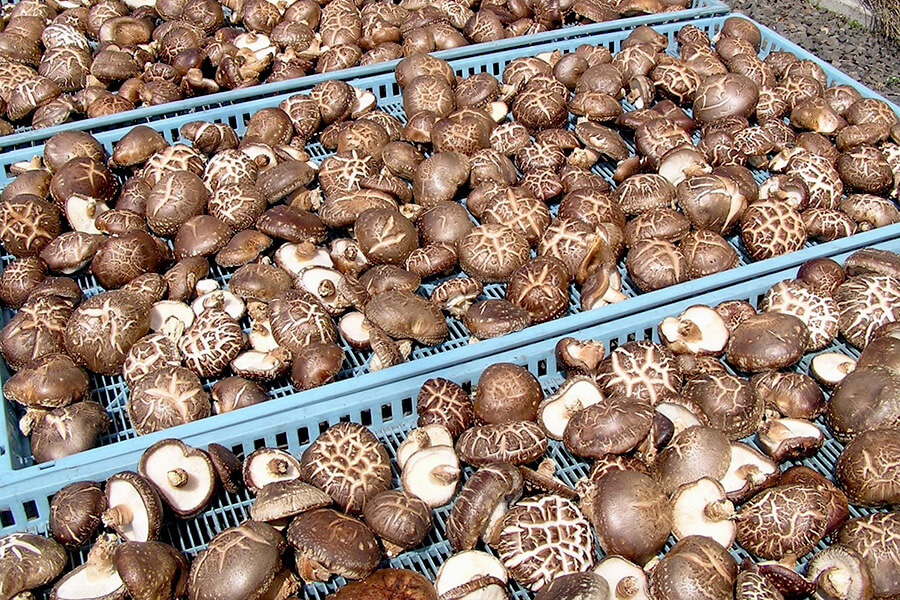 8.Bid
There are 5 markets in Oita prefecture that specialize in for dried shiitake mushrooms, companies that specialize in dried shiitake mushrooms from all over the country gather here to participate.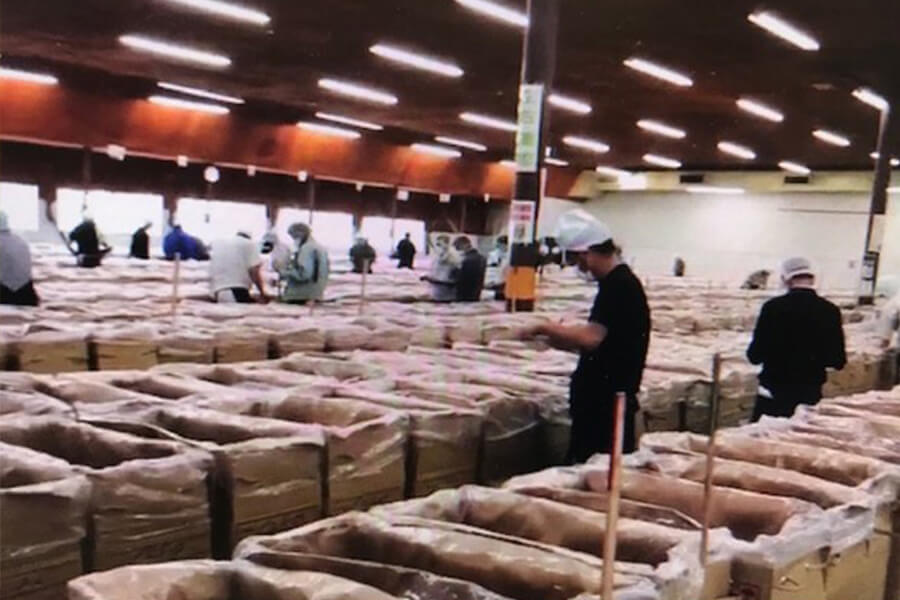 Safe, Easy to use, and Delicious
Three characteristics for shiitake mushrooms: Safe, Easy to use, and Delicious
We, Marutomo Products, commercialize dried shiitake mushrooms grown from raw wood and mushroom beds in our own factories. We possess up to 10,000 different kinds of products. Through thorough quality control, we deliver safe, easy to use, and delicious shiitake mushrooms.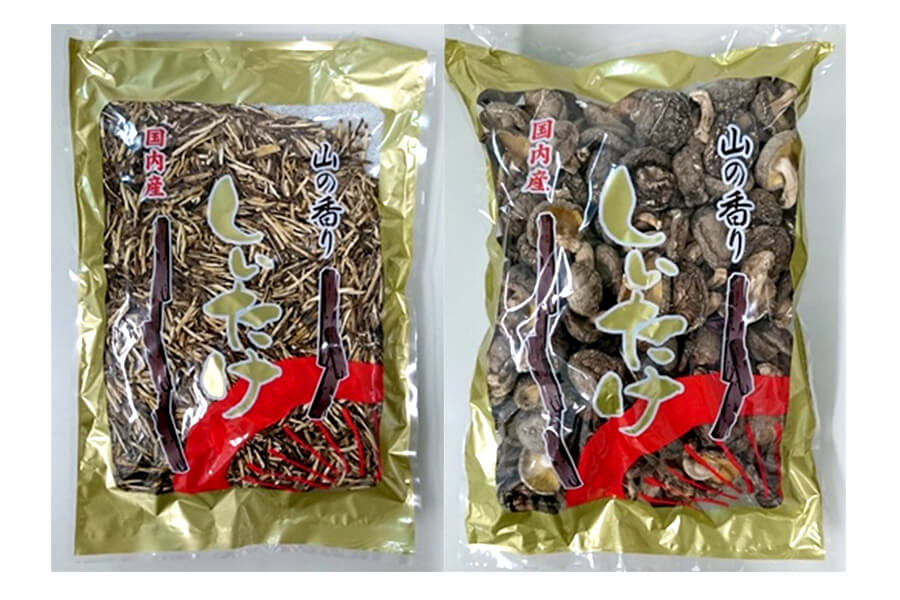 Secure quality for school lunches within Japan
Dried shiitake mushrooms of Marutomo Products are used for school lunches in schools from north up to Hokkaido to south down to Okinawa. The reason is due to the thorough quality control of Marutomo Products.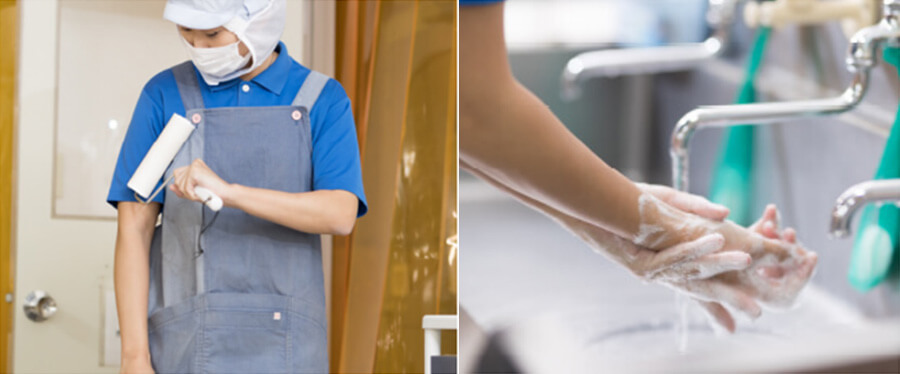 A common faced problem with dried shiitake mushrooms is that insects are found inside. Since the mushrooms are grown on raw wood without any pesticides, it is difficult to avoid insects from going inside. The insects enter the mushrooms from the stem, making it even difficult to notice with bare eyes.
Marumoto Products has been studying about mushroom insects and has succeeded in selecting mushrooms with no insects. In addition, we cut off the stem from which insects enter and check thoroughly to avoid insects thoroughly. We also store the shiitake mushrooms under -25 degrees storages for 2 weeks to avoid insects from breeding.
Other than this, we also control our environment thoroughly, including environment hygiene and staff's health. We run our environment management under HACCP, and we also possess PCQI license. Our vision is to provide safe and good quality shiitake mushrooms for our customers.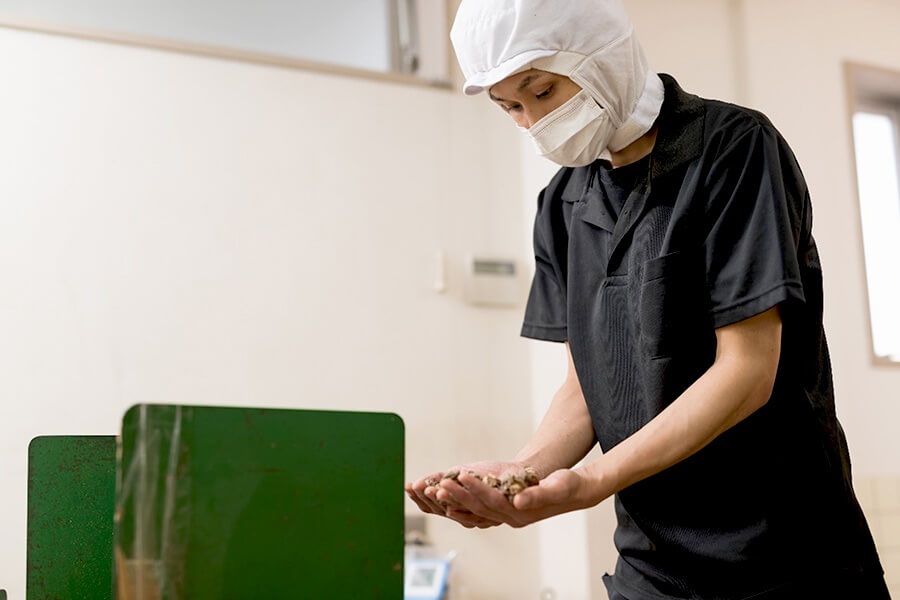 生産や加工の履歴を確認
In addition, Marutomo Products is a member of the Oita Dry Shiitake Traceability Council, so there will be a label stick as a certificate of participation on every package of shiitake mushroom produced in Oita prefecture.

You can find detail information, including production and processing history of evey pack of mushrooms by entering the individual numbers on the council's website. (http://www.oita-shiitake.info/)
Ready to use right away
When you buy dried shiitake mushrooms, you can put them in water and cut them according to different purposes. Also, depending on where you want to use it, the parts you want to use will be different.
The dried shiitake mushrooms made by Marutomo Products meet the needs of cusomters who want to use them right away after putting it in water. Other than those thinly sliced and quarted-cut products, there are also products packed with whole thick shiitake mushrooms. In addition, we also sell a variety of products, for example mushroom stems and power products, all can be used right away.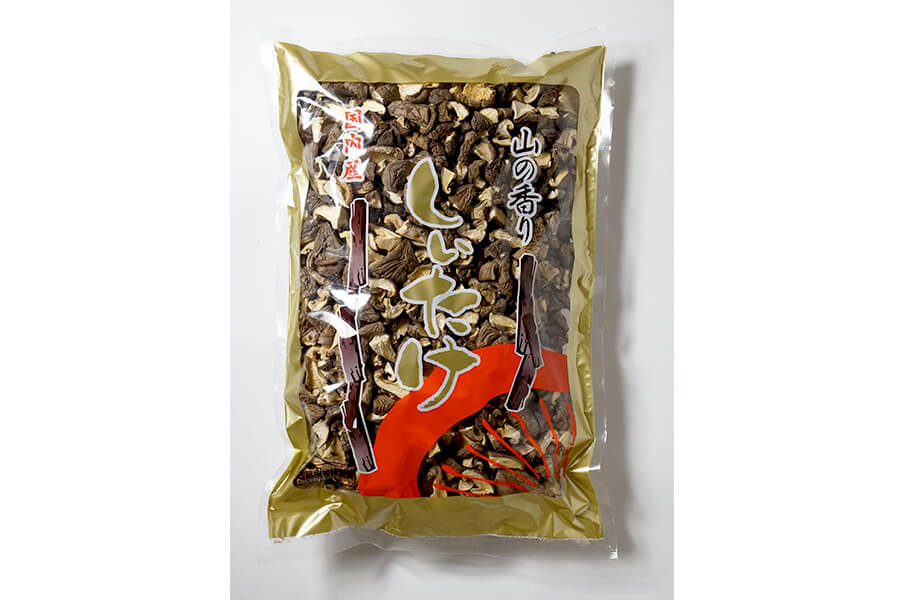 Delicious taste which children also like
Since shiitake has a unique taste and flavor, many children don't like it.
But the shiitake mushrooms made by Marutomo Products is cultivated on mushroom beds, which has less flavor than those cultivated from raw wood. Due to this reason, it is easier for people who don't like shiitake mushrooms to eat.
If your child doesn't like the shiitake mushrooms flavor, please let him try our product!
Recommended by different usage
Below, we want to introduce dried shiitake mushrooms based on their different usages.
"Shiitake Mushrooms Joudonko from Oida Prefecture"–the product that can be used anywhere
Thick dried shiitake mushrooms can be used anywhere. It can be used as a main dish, such as fried with foil, or be used as a side dish along with sukiya and other boiled food. It is recommended if you want to taste the solid flavor of the shiitake mushrooms.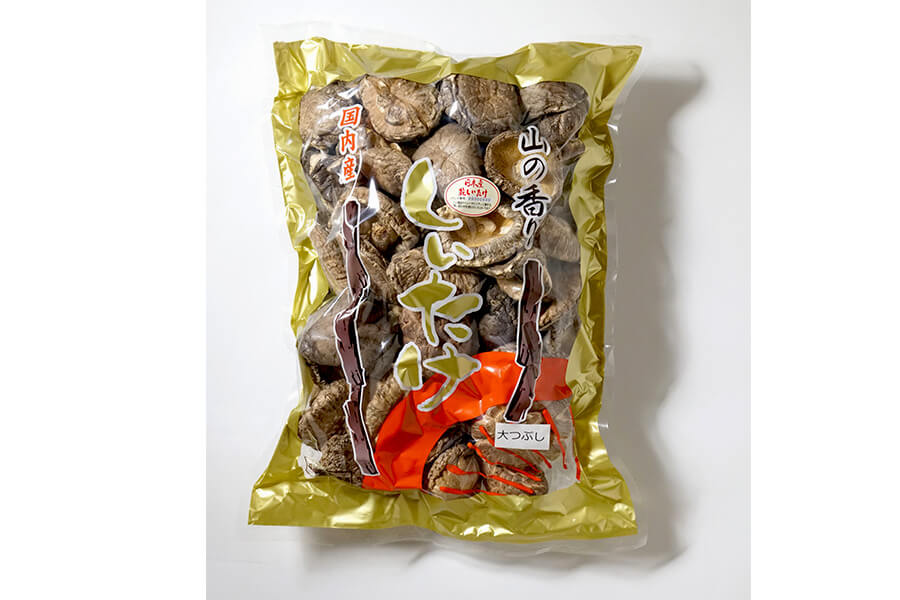 Ready in a short time "Japan produced whole shiitake mushrooms(no stem) 55g【Shiitake for school lunch use series】"
This is a series of school lunch use shiitake mushrooms, mainly made by Marutomo Products. The stems have already been cut off, so it can be used directly after being put into water.
Also, since the mushrooms does not have as much flavor as normal ones because it is cultivated on mushrooms beds, it is suitable for children who doesn't like the flavor of shiitake mushrooms.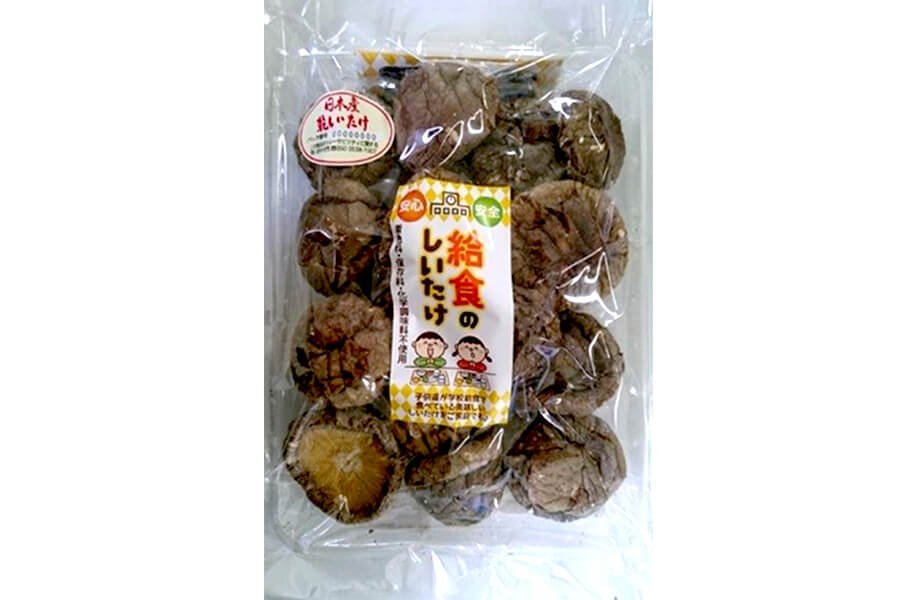 "Dries Shiitake Mushroom Power" which can be used in soup, fried rice, pasta and etc.
Made out of 100% shiitake mushrooms, without any artificial or chemical seasoning. By baking the mushrooms under 200℃ high temperature and high pressure, the bacteria us adjusted, allowing the mushroom to be eater directly.
Dry shiitake mushrooms contain vitamin D, fiber, and lentinan, which is said to have anti-cancer properties. It is an ingredient with full nutrition that can be used in many dishes.
Also, possessing many nutrition related to beauty, it is said to be a "Beauty Ingredient" for women.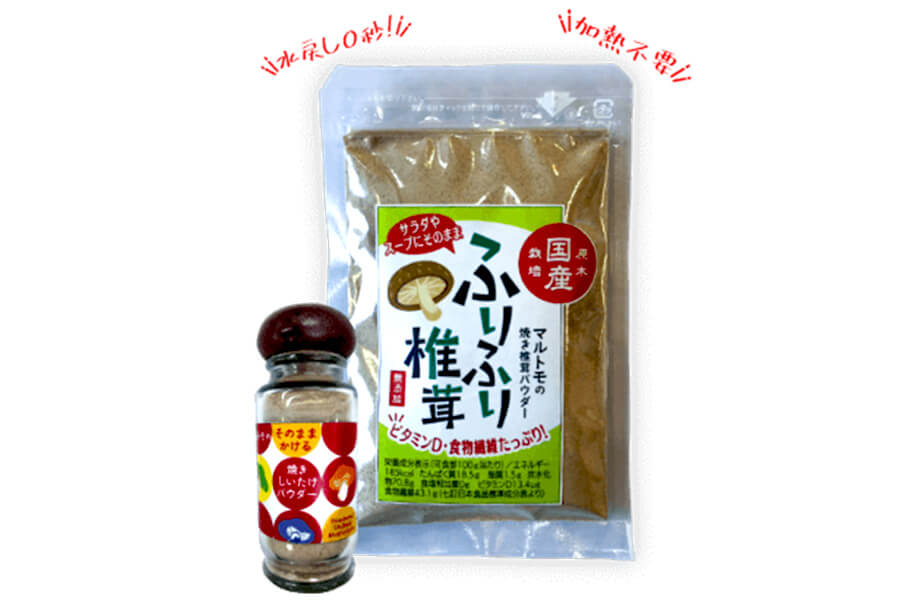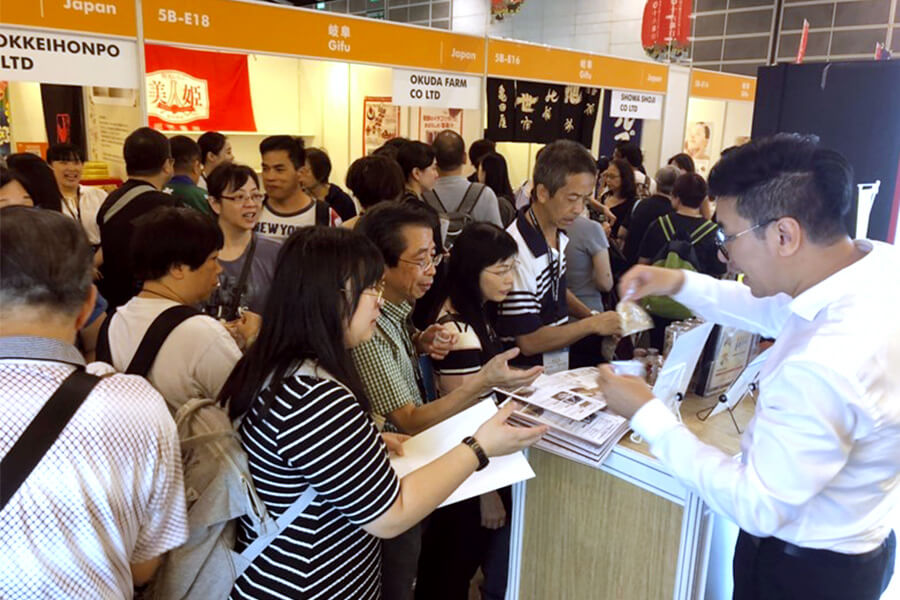 The products introduced this time are just a few.
Marutomo Products have a wide range of products to meet customers with all needs. It you have any shiitake products that you would like is to make, please let us know your preferences. We will carry out OEM production and develop new products for you. Since we already have 10,000 kinds of products, the one you are looking for might have already been commercialized.
Marutomo Products made dries shiitake mushrooms are provided with safe and thorough quality control.

Labeling Act of quality and country of origin
Reasons for our recommendation
Also, if you ae a buyer from overseas, please contact NOPAT Inc. any time, they will be responsible for the delivery of your product.
Buying products that are thoughtful for customers by saving time, you may have more precious time to spend with your family.